Reel Fish
Branding, Packaging, Print, Exhibition, Web
Exhibited in
MICA Grad Show 2018
, Reel Fish is Baltimore's first sustainable seafood brand that aims to both educate and excite younger audiences about sustainable fishing by highlighting traceability from sea to market. Bold typography and colors featured in the screenprinted packaging and more call attention to action needed in sustainable seafood consumption and policy.
Check out Reel Fish's feature in
Bmore Art
magazine here!
Branding Guidelines

In order to communicate a strong sense of transparency—and the importance of urgency in sustainable fishing—I started looking at sans serifs that had taller, more assertive ascenders. For the main lockup, I decided to do slight negative tracking (blasphemous!) and tighter leading to pack a punch. The "Reel Fish" logo is always seen in two separate lines and can be scaled infinitely. Neon orange and yellow are used as secondary colors to the main pink, black, and white.

Packaging

Packaging for fish (as well as the frequent buyer cards) was customized using Reel Fish's signature fish icon, screenprinted using neon pink and black inks onto natural-toned butcher paper, which provided just the right amount of color pop. The packages were then sealed with a sticker that had space to write in the species' name, origin, and date of catch. To-go packaging was also made, adding stickers and screenprinted accents.

Fun fact: the containers are recyclable and biodegradable!

Collateral

Reusable tote bags were also made for in-store purchases, whereas insulated shipping containers heralding "Real Fresh, Reel Fish" on the sides were intended for customers that prefered delivery. As a bonus, shipping boxes had a hot pink interior and were sealed with the brand's signature fish pattern tape. Stickers and frequent buyer cards were also distributed.
Website

For the website, I aimed to showcase Reel Fish's traceability, so I made a special section that lists the three steps in getting your seafood from sea to market.
Exhibition

Reel Fish's bold typography, colors, and message reeled in many visitors at the Capstone Exhibition. The kitchen island and bar stool + table give a nudge at the restaurant setting, without letting a purely restaurant branding project be the sole focus (pun intended). My main goal here was to educate and excite younger audiences about sustainable fishing by means of a restaurant and lifestyle brand.
Process


Bold typography and color carries through in the process book, large enough to encapsulate all of the work I did for Reel Fish. The 30-page Japanese bound book measures 10x14 inches and covers everything from my initial research, trials and errors, and exhibition.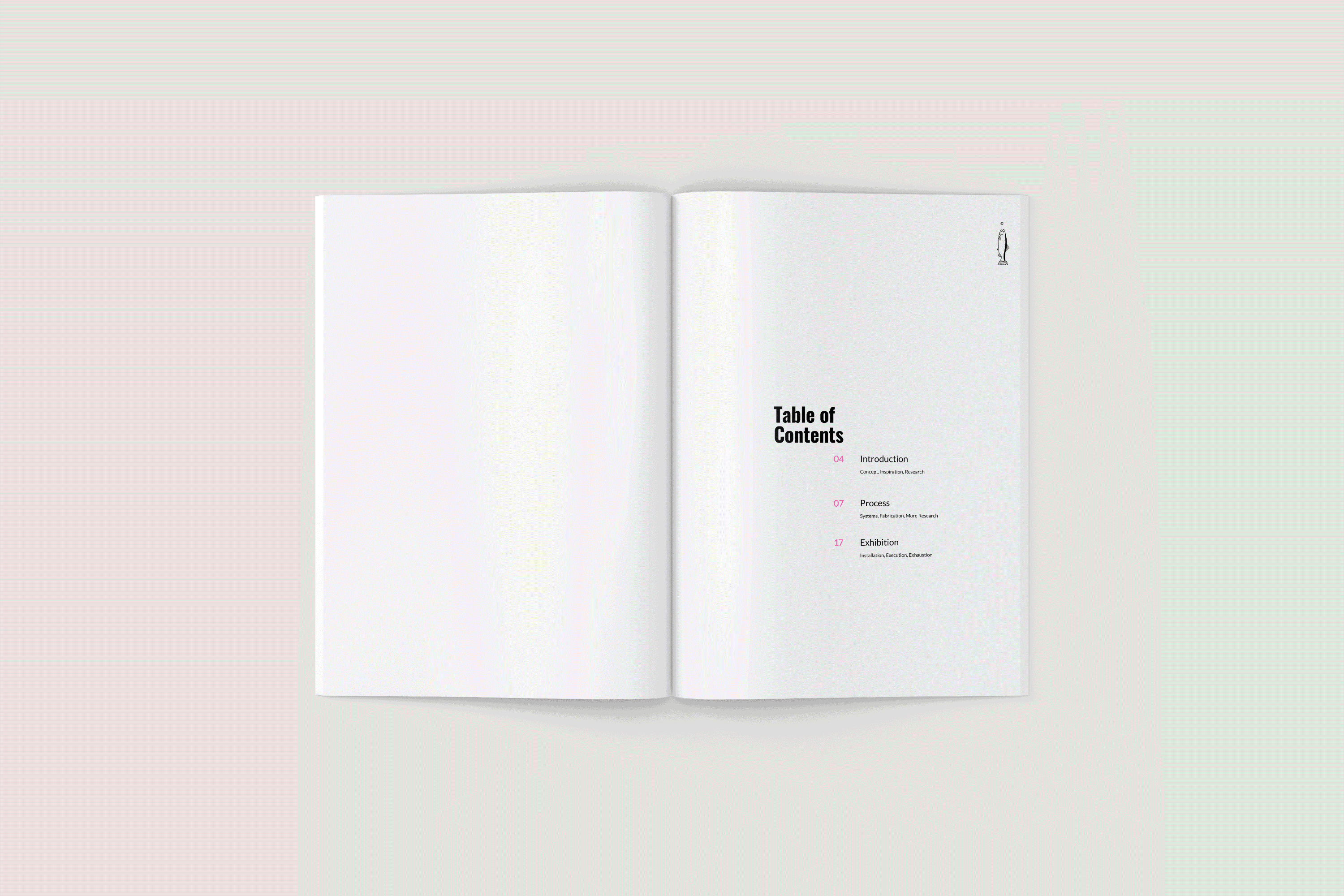 Additionally, at the beginning of this project, I made my own version of a dictionary in order to spur ideas related to sustainable fishing. My dictionary, a "menu" of sorts, comprehensively showcases fishing methods worldwide, as well as lists
"best" and "worst" choices of seafood
. To grab consumers' attention, "appetizers" included unappetizing (i.e. unsustainable) fishing methods such as bottom trawling and dredging. The menu then expands to entrées, which lists best (i.e. fish that are caught sustainably) and worst (i.e. species that are overfished or caught under poor fishing regulations) choices of seafood. Sprinkled in are bits of knowledge on management plans, farmed versus wild seafood, and the status of sustainable fishing in several countries. The menu is mounted on a clear plexiglass board, meant to reflect the transparency of Reel Fish's practices.
Special thanks to the MICA Post-Baccalaureate cohort, and for guidance from Sandie Maxa, Tony Venne, and Maureen Weiss.