Letters of Madrid
Poster, Photography, Lettering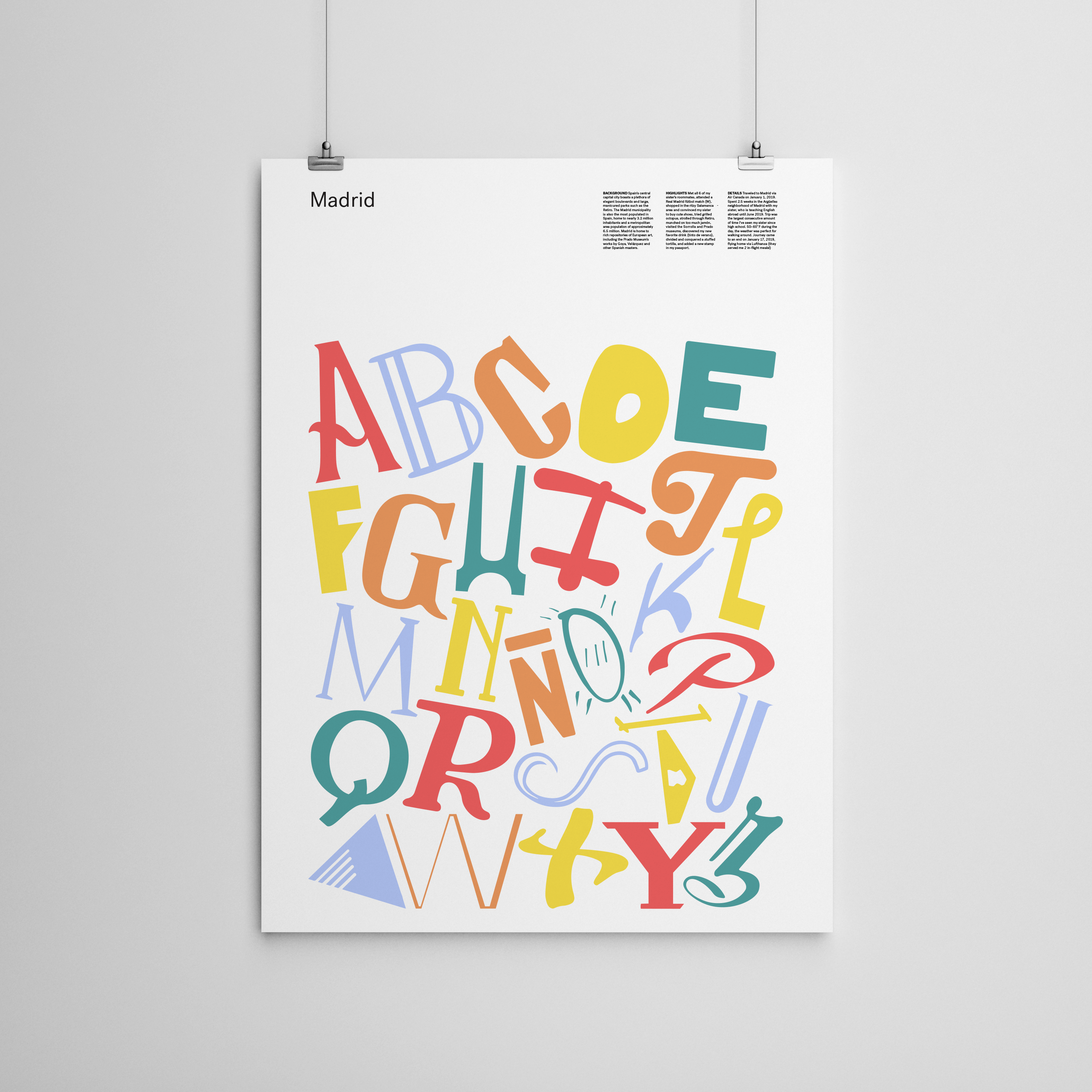 Poster that utilizes found typography to create an alphabet that evokes my experiences in Spain and the vibrancy of Madrid.
Exploring the city and drawing letterforms established a fun, quick daily practice while visiting my sister in Madrid for 3 weeks in January 2019.
First, I started by going on 1-hour walks in different areas of Madrid and documenting what I saw.


I then started tracing some unique letters that I saw on these walks until I reached a full alphabet.

I drew the color palette from photos I took on my walks in Madrid.

Each letter is drawn from found typography, and I aimed to associate each letter with a specific experience I had in Madrid. Here's a sample of my time in (and inspiration from) this city:


P for Palmera A delicious flaky treat glazed with sugar, which I ate many times while in Madrid. The letter P was found at a market.
R for RetiroA beautiful park that offers boat rides, art in a breathtaking glass building, and manicured gardens. The letter R was found when walking through El Rastro.
J for JamónJamón, especially jamón ibérico, is a delectable meat with a nutty taste. The letter J was found on a trash bag.
S for SorollaI visited the Sorolla Museum while in Madrid, which is located in the artist's home. Brushtrokes pair well with this S's shape, drawn from convenience store signage.
T for TortillaTortillas in Madrid were unlike any I've ever had. Stuffed with cheese, onions, and potatoes, three people successfully tackled the tortilla shown. The letter T was found at a clothing repair shop near El Rastro.
A for ArgüellesArgüelles is the neighborhood that I stayed in during my duration in Madrid. The letter A, part of a lingerie storefront, was found while walking to dinner.
C for ChurroBefore coming to Madrid, the churros I'd had were coated in cinnamon sugar. Not at Chocolatería San Ginés! These treats were bare and let the chocolate dipping sauce add the sweetness. The letter C was found while walking along the Manzanares River.